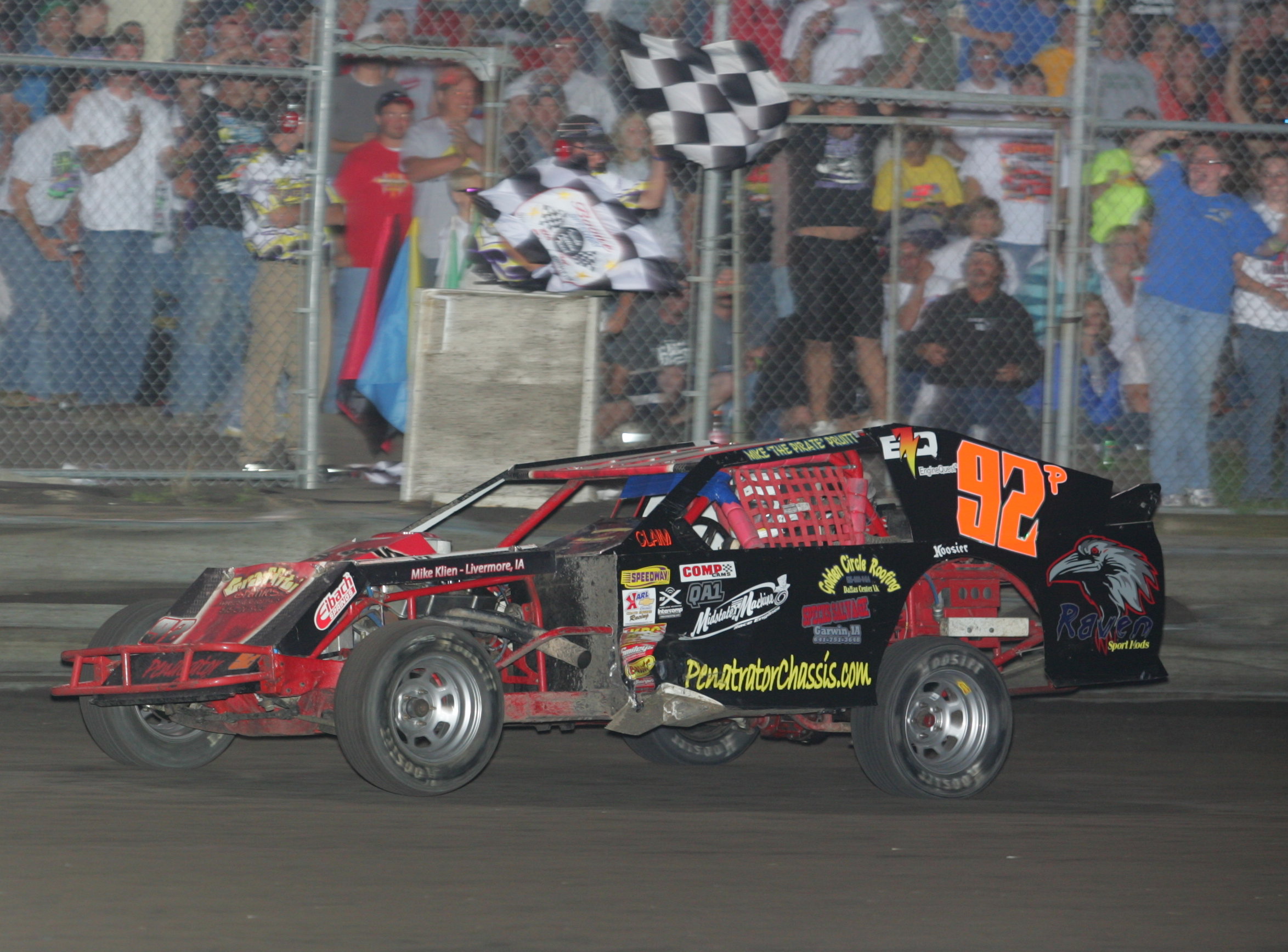 2009 Raven Sport Mod (2009 IMCA Boone Supernationals Champion). 53 laps raced and 53 laps led!!!
Thank you for considering a Penatrator chassis for your next car!.
Check out some on the benefits of purchasing our chassis and see for yourself why Penatrators stand out.
We build top quality, Safe, Fast, Light Weight, Dependable and a Strong chassis. Remember SAFETY is our top priority as it should be yours as well!! Our main cages are all built of DOM tubing for strength and safety. All of our cars are Jig built to insure repeatability. Our chassis are one of the lightest and strongest on the market. We do not believe in building a 1 to 2 year throw away car!
We are now building chevelle frame Modifieds and Sportmods for the 2012 season. We have the new Chevelle jig set up and ready to building chassis. The 2012 Raven Sportmod was tested towards the end of 2011 and had some great success with 10 top 5 finishes out of his first 13 nights of regular season racing, and also had a 2nd place finish at Marshalltown Havoc on the high banks! The Raven Chassis is proving to be the best dry slick car on the market week in and week out. With some great feedback from our drivers we will continue to stay ahead of the competition.

1: Safe and fast
2: Light Weight and durable
3: Easy to set up
4: The best tech support anytime you need it
5: Excellent contingency program
6: Free use of scales, set up equiptment forever
7: Loaner parts program
8: Quick service on repairs to get you back racing ASAP
9: In house lettering business
10: 50% off all lettering for an entire year after purchase
11. Great discounts on parts and labor
12. We are and always will be a customer oriented buisness, so we will always have time to talk and answere questions


1: $25 for each feature win (limit $250)
2: $250 for each track championship (limit $500)
3: $100 for a 2nd place finish in track points (limit $100)
4: Free chassis for a IMCA national points title

1: $15 For each feature win (limit $150)
2: $200 for track championship (limit $400)
3: $50 for 2nd Place finish in track points (limit $50)
4: A free chassis for a IMCA National points title.
Note: Any certificate can be used on any in house built parts (bumpers, chassis, lettering, repairs or labor).
They will be good from time awarded to the beginning of the next season.
Call for additional info 515-490-7446.
Site Developed by RWDesigns